One.
My family long-ago dubbed me Queen of All Purses, so it's no surprise that I can't stop thinking about this: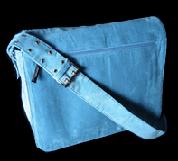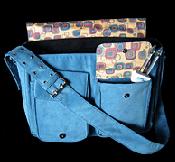 I know I already have two awesome knitting bags, but that doesn't mean I've given up the search for the PERFECT bag. When I saw the Namaste collection, the most difficult decision was which one to order. Truth be told, a messenger bag seems to be the best fit. I love the way traditional purse/bags look, but I keep going back to the diagonal-over-the-shoulder thing.
If I like the new bag as much I think I will, the Lady B will be going back — or on eBay.
Two.
I thought I was addicted to American Idol last season, but that was when I only loved one or two of the top 10, and not nearly all of them. Tuesdays and Wednesdays are nail-bitingly nervewracking at our house. Moon has lost two of her favorites in a row (the aforementioned Bucky, and now Ace), and she's crossing her fingers and toes that Elliott won't be next.
We're Yaminions. (Although I've been pulling for Taylor Hicks from the start, and not just because he looks like he could be my age. He's entertaining enough to be parodied on SNL, ya know.)
Moon's already bugging me about buying tour tickets. And in case you didn't think I was geeky enough, I've crocheted a beanie for Ace.