Archive for tv
Constantine Maroulis
Originally uploaded by me. Yes, me.
Yep.
Geez, he's tall.

Oh man, I really wanted him to win. But the silver lining is that he won't be stuck singing the lame-o songs that would have undoubtedly been forced on him had he been named this year's Idol. I genuinely enjoyed all the finalists, but Bo Bice, he was my favorite from the first time I watched him step onto the stage. This was not an ordinary Idol contestant, not at all.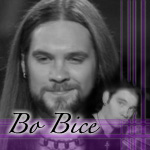 Moon even made an avatar for me. Pretty sweet. Well, now we can enjoy the stuff we've taped over the past weeks. It's been fun being a fangirl.

As of yesterday, Pete and I have been married 19 years. Yes, 19 years. We went out to lunch, and lamented that our busy lives prevented us from doing anything too wild that evening. (Next year: a cruise? Maybe.)
In other news, I am over the moon about my American Idol making it to the final two. My Idol, no matter what happens next week. The moment I laid eyes on Bo Bice and heard his distinctive voice, I was a believer. Heck, I even joined the Bice Squad. SpiritMan and the kids are pulling for him, too.
We've become geeky AI people. I read aloud from rickey.org and Jaded Journalist episode summaries. We'll be at the AI concert this summer in Milwaukee. Oh yes, we will.
« Previous entries